This site is best viewed at 1024x768

Chrome and Edge Settings click here

Internet Explorer Settings & Minimum Requirements

Set your browser to "display mixed content" for the "Local Intranet" and "Internet
zones as follows:

Step 1:
Open Internet Explorer
Go to Tools > Internet Options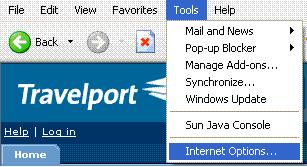 Step 2:
Click on the Security Tab
Select "Local intranet" zone if not already selected by.
Step 3:
Click on the "Custom Level …" button.
Scroll down to "Display mixed content".
Select "Enable".
Click "OK".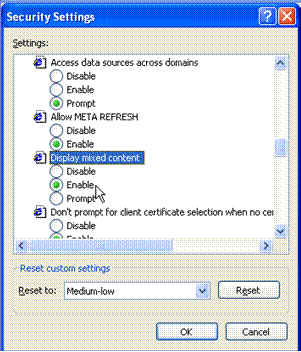 Step 4:
Click "Yes" when asked for confirmation.

Step 5:
Stay on the "Security" tab, select "Internet" zone, repeat Steps 2 – 4.

*If you have added portal to your Trusted sites zone, you will also need to repeat steps 2 -4.
For external customers who are getting blank pages, follow these steps for cookie handling:
1. Run Internet Explorer.
2. Click Tools, and then click Internet Options.
3. Click the Privacy tab, and then click Advanced.
4. Click to select the Override automatic cookie handling check box.
5. Click to select the Always allow session cookies check box.
6. To receive a prompt for any type of third party cookie, click prompt in the third-Party Cookies.